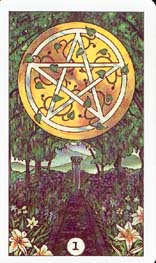 If the
Ace of Pentacles
is drawn in a reading, this usually means there is a beginning of new business; enterprise; success in money matters. This card may also represent the
Great Path of Huna Righteousness
, (
ke alanui e pono ia Huna
) or for that matter, any path of spiritual enlightenment.
– money hopes and plans start the effort going.
Ace of Diamonds: D + T. DATE. The Date fruit. Falling into the image of a date. Into the hot sand, the hot land of the Middle East. Dates, olives, honey and the old Silk Road. All these organizations of human effort and planning. All to rearrange scarce resources. To make money. All these ancient plans, the Nile River, the little Arab dhows moving up and down the river all the time making little bits of money. The warmth.