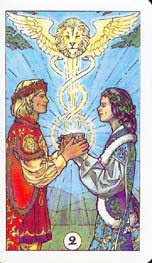 The
Two of Cups
represents partnerships. When the
Two of Cups
is drawn, it can mean that a healing of a relationship is needed; or that there is a necessity for a partner. "Things are best done in two's."
In a reading, it might mean
a
move toward friendship and cooperation.
- P
rogress begins well for the desired love or other thing. Two work together. May include healing and nursing.
Two of Hearts: H + N. HEN. The partner. The Belovèd. Doing things together. To shoulder your burdens, yes, but to have someone you can trust to help you is a grace.