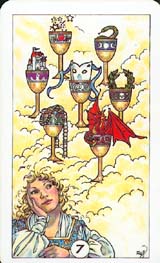 The
Seven of Cups
indicates that High Choices are to be made. This could represent that the Transient must re-think his or her motivation in life.
This is a Life Cusp.
– hopes rise very high. All seems about to work out perfectly.
7 of Hearts: H + K. HAWK, I see the sky and a hawk circling. I remember a proverb by Heinlein, "All horses can run, but which one will win the race? Differences are crucial." This is the card of a cusp. Of the fanning out of one's fate into several different lines. Not the everyday choice. But, even if unknowingly, the choice that changes one's Fate. the card of High Choices.
We see in this card high hopes of good things to happen, but without much preliminary work or planning to bring the good things about. "Pie in the sky." -MLK