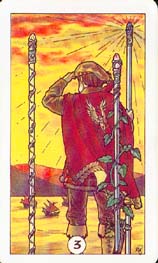 The Three of Wands indicates an expectancy; watchful waiting; looking ahead; waiting for your ship to come in; card of anticipation.

– watches for ship not coming in as expected.
Tre of Clubs: C + M. COMB. I see a man's back. He is combing his hair. Waiting for his ship to come in. He doesn't know what goodness will befall him; he doesn't know if anything is coming at all. Still he waits. He once made an effort, sent a thought or something into the wind; now, perhaps, it will someday return him, and not in vain.
More than about waiting, they're about growth and maturing, And the 3 of wands is expansion, broadening horizons (Renee). In readings, the Three of Wands can tell you to take the long view.