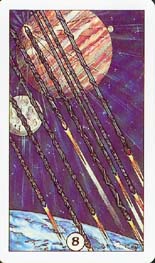 The
Eight of Wands
indicates quick and sudden changes; unexpected travel; movement.
– sudden changes, travel, moves.
8 of Clubs: C + F. COFFEE. I see a cup of coffee being stirred. I am attracted to the surface of the coffee. The interblending of the cream and coffee, the streaks and swirls. It reminds me in a way of the colors of a kukui shell. I fall into the surface of the coffee. Suddenly I am in darkness. But all around me is movement. Shifting first in one direction then the other. Quick moves and changes from all directions.