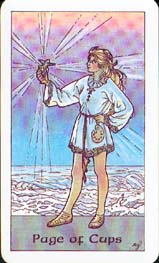 Jack of Hearts: The young HEART, the joy and optimism of youth. The willingness to share all of you with another. To give your love or friendship to another. This is the thing, this offering. It is that, and not at all the willingness to receive it that is the grace, the mana, the virtue of Io. The worthiness of service is not to be had in what is served, but in the quality of the Service offered.
PAGE – inexperienced young person tries for love, perhaps passionate.
In readings the Page of Cups can indicate

friendly proposals in smaller matters;
Necessity to plan or Dream something.
The kalo sees that everything that is possible to do, involves 4 and no more "Fields of Action".


Spades: Activity or Aggression.

Clubs: Study, Business, Learning.

Hearts: Loving, Plans, Schemes, Dreams.

The Page of each Suit is the beginning of action in one of the fields:

Page of Cups (Jack of Hearts):