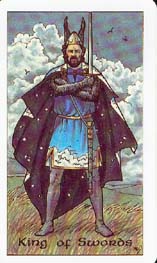 The King of Spades
: I am stable, the center of my thoughts and being, yet a tornado of power and willfulness. Someone to guide me. Someone to help me who is in the position to help.
KING – is man with power and may help or hinder according to cards coming with him.
In readings, the King of Swords asks you to take the kinds of actions he might take. For example: telling the truth, thinking up a solution, communicating well, or judging fairly.