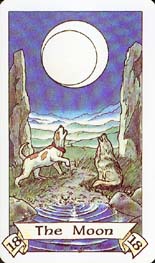 XVIII The Moon
Reverse of the good as augured by the Hermit. Efforts to progress without Aumakua Guidance. False starts. Predicts a mixture of troubles. Worries. A

gain we see repeated the symbolizing of the disaster coming from failure to work in harmony with the Aumakua.

The three phases of the Moon represent the three selves. The crayfish, climbing out of the water onto land, begins the journey along the path up to the mountains between the two towers or pillars. The wolf and dog are baying at the Moon, not yet on the path to the Light.
In readings, this card often stands for fears and anxieties - the ones that come in the darkest part of the night. Card 18 also stands for illusions. It is easy to lose our way in the moonlight. Be careful not to let deceptions and false ideas lead you astray. Sometimes the Moon is a signal that you are lost and wandering aimlessly. You must find your way back to the path and your clarity of purpose.