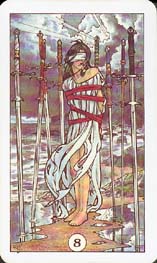 The Eight of Swords represents apparent defeat for self of others.
– sees apparent defeat of self or could be of enemy.
8 of Spades: S + F. SAFE. "You're not safe." I fall into the image of despair. I remember, "In despair, you destroy what you love." The recognition of self-defeat. And I understand it, and why it brings on despair. But then I see Io laughing good-natured behind the scene. For the only effect of seeing self-defeat, is to give up trying. Or to destroy what you love in a "last ditch
effort" to do something.
Io's
fallacy? That one is immortal, and what appears to be lost, can never really ever be lost. If a person is grief stricken, still, it is not lost. And if the person continues until he dies, still, it can never be lost. And if turning around and facing whatever it is that is following us? We might win, or we might lose, but what is our own can never be lost.
Io
doesn't let that happen.