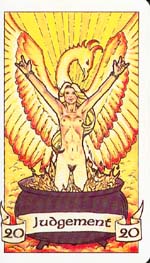 XX Judgment
Good chance for starting all over. May augur taking up again a project dropped in the past. Opens the way. Something old may be resurrected. Resurrection of the dead, at the call of Gabriel's horn. Something once given up on may be renewed.
Judgement requires inner awakening, accountability, and reckoning (Renee).

In readings, Card 20 can be a reminder that judgments are necessary; sometimes you

must

decide. At such moments, it is best to consider the matter carefully and then commit yourself without censure.