Two of Swords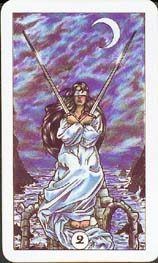 The
Two of Swords
indicates that the Transient is well armed but unable to fight or defend oneself.
– sees well armed but unable to fight intelligently.
Deuce of Spades
:
S + N
.
SUN
. I see the sun reflecting off two swords being held by a woman, then into the image of the glinting blade.
This is the world of misconception. Of a mistake in the evaluation of something---anything. To make plans based on an incorrect evaluation of reality. The "Maginot Line," where France prepared to fight WW I and win this time! Only it was now WW II. This is the card of that thought. To be well armed, but unable to actually defend oneself. The card of self-deceptions.