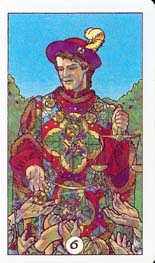 The
S
ix of Pentacles
indicates a need to give or receive charity; spread/share the wealth.
– new beginning is made. Money divided for self or given to others.
6 of Diamonds: D + SH. DISH. a Collection dish. The giving of the tithe, the charity. Or maybe the necessity to seek charity. This is, I fall into, the give and take of gifts and giving and receiving. The giving heart. The receiving heart.