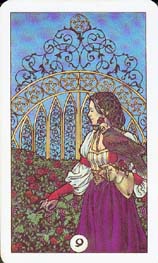 The Nine of Pentacles indicates that the Transient may have all the money he wants, and is still not satisfied; dissatisfaction.
– enough money but discontent. Some satisfaction still lacking.
9 of Diamonds: D + P. DOPE. I fall into a pile of marijuana leaves. All around me I see everything I might need, but somehow everything seems so out of reach. I have, but I don't have. I have everything, but still I'm discontent. I laugh. .

.
"When I hold the 9 of Diamonds, sometimes I'll see a fine meal I have just eaten, and there is nothing left and I am still hungry. I feel the pain in my throat and chest I once felt as a kid whenever I was going to cry. If there is just that one card I'm holding, and I open my mouth to speak it, I'll say maybe, "Is that all there is?" And that's the meaning of the card. But the real, deeper, teaching or meaning of the 9 of Diamonds is: "Is there a banquet which never ended?", And the wisdom is that without the ending of one banquet, there could never be another. The Huna teaching is to be cool. To accept what can not be changed, and move on in WALE. To know joy and give appreciation for what is, and not be sad for what is not. To experience reality without preconceptions of what must or must not be."