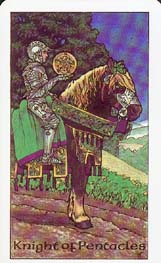 The Knight of Pentacles can represent money coming from known sources.
KNIGHT – experienced start.
On the positive side, the Knight of Pentacles is like a bulldog. Once he bites down, you can be sure he won't let go. He's dogged in pursuit of his goals. A hard-worker, he has tremendous stamina and dedication. Every job is always completed down to the last detail. He's careful and prudent, never wasteful. He knows the facts and is immune to false promises.
On the negative side, this Knight is a bit stodgy and dull. He's not known for his playful sense of humor. Work always comes first. He tends to be inflexible and obsessive about little details. Stubborn to a fault, he refuses to give in even when wrong, something he'll never admit. He doesn't like change or risk and will always take the gloomiest view.
In readings, a Knight of Pentacles shows that his cautious style is involved in the situation as an aspect of you, someone else or the atmosphere in general. You need to ask yourself, "Is this Knight's energy helping or hurting?"