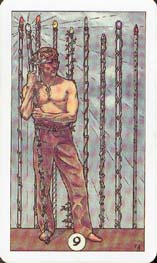 The
Nine of Wands
indicates the way is blocked; or the harvest is guarded.
– the plan is almost worked through.
9 of clubs: C + P. COP. A policeman's whistle in the air! Screech! Stop! It calls to you to me. To stop. To take notice too. Yes, the way is blocked for a time, but the question is, Why? To me the 9 of Clubs means more than just "STOP!", it means that something vital isn't being paid enough attention.
The Nine of Wands can be a warning that you must proceed carefully.