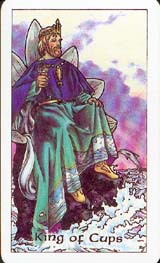 King of Cups: The active nature. The desire to conquer dirt; to bring nourishment to one's mate. The malama nature of love. To be the kumu of it.
KING – a strong, fatherly, friendly man supplies love, help, etc.
In readings, the King of Cups asks you to take the kinds of actions he might take. For example: responding calmly in a crisis, using diplomacy rather than force, reaching out to help, or accepting a different point of view.