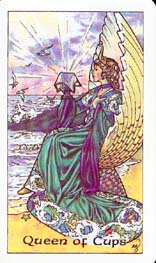 Queen of Hearts: I stand outside the core of femininity. Of that dual nature of steadfastness and desire for beauty and progeny. The grace of the fecund (adj 1: capable of producing offspring or vegetation 2: intellectually productive; "a prolific writer"; "a fecund imagination" [syn: fertile, prolific]).
QUEEN – a woman clings to her inner dreams of love and good for all.
I felt it in its metaphysical quality in Hawaii, when I was in the Cave of Kapokohelele. Here I chanted the Chant of Opening, and here, in Madame Pele's own Heiau, I was embraced by this overwhelming female mana and grace. I feel something akin to it each time I do a Firewalk. Wahinenuiho`alani is likewise a source of the feminine enchanting embrace, the same, yet different, although I can't explain it. The feminine, the receptive.
In addition to the general meaning of the Queen, as Woman or Feminine Principle or Energy, the card can also represent someone secretly working on the Transient's behalf.