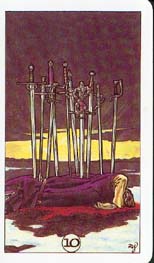 The
Ten of Swords
is called the
End of Strife
card.
It indicates the ultimate defeat of self or others.
No more suffering.
– is double meaning card. Ends try, with self or enemy obstacle on top.
10 of Spades: S + Z. SUDS. "The Frothing," The frothing of Io. This is a card of Graduation. The End of Strife. The end of protoplasmic rebirth, and Graduation into the Aumakua. Look at the image on the Kalo card. Look at the man lying on the ground, with all the swords in him. It looks grim. Maybe so, if you don't "get it." Look now at his right hand. What do you see? The symbol of Graduation. The two made into one.