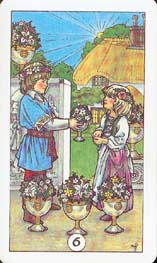 The Six of Cups represents childish things entering the picture, for good or ill. The Transient may be acting childishly about something.
– new start planned and begun, new places, new elements. Promise.
6 of Hearts: H + SH. HASH, slinging the hash. As I fall into the little wagon, I smile at childishness. I am reminded of the other side of that coin: Nothing is so important, As the red wagon, In the garden, in the rain. The seriousness of being childlike. The seriousness of fun. And the way it can get in the way of things too if you're not careful.
This card is the only one in the Tarot that refers explicitly to the past, and of memories and good times experienced there.