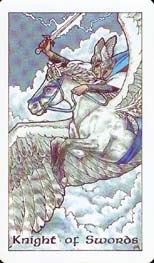 The Knight of Swords is the most active card of the entire deck. He rights wrongs. It indicates the necessity for powerful, dynamic, persuasive action. Knight of Swords, "Experienced and Dynamic Aggression"
KNIGHT – is experienced and rides fast to right wrongs.
On the positive side, the Knight of Swords is a master of logic and reason. He has a keen intellect that grasps the fine points of any subject. He speaks clearly, directly and always with authority. His judgments are sure and free of emotion. Others rely on his lucid analyses of problems and solutions.
On the negative side, this Knight is not a master of diplomacy. He can be downright tactless and rude. When he thinks you are wrong, you'll know it. He's convinced of his own superiority and has little tolerance for stupidity. He expects others to comply with his views. To him, feelings are irrelevant and illogical.