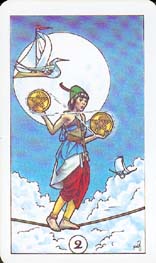 The
Two of Pentacles
indicates a need for balance; juggling funds.
– progress with juggling of funds and means to get plans started.
Deuce of Diamonds: D + N. DUNE. Falling into the image of a sand dune. Maybe a slight feeling of dizziness, maybe my chair settles a little. A chair in the hot sand. Moving it to keep it in balance.