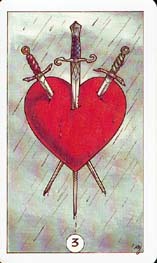 The
Three of Swords
represents small heart-aches.
– sees small disappointment.
Tre of Spades: S + M. Uncle SAM. Sam, sad Sam. I feel the grief and sorrow of the world. Not everything, not all at once. The frustration and suffering one has in losing a Chess Game, or a broken heart. The World of Wishing Things Were Different than they actually are. Ultimately a falseness. False because it is ineffectual and wastes time and energy.