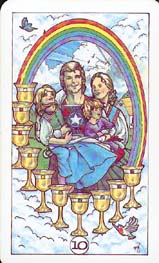 The Ten of Cups represents the absolute success in hopes and dreams; active and dynamic; continued or on-going lifestyle of desires fulfilled. This includes other people - family and friends.
– successful end of quest near. Contentment. Everything good.
10 of Hearts: H + Z. HOSE. I enter into a world of falling droplets of water on a hot day. The strong light makes for rainbows in the air. Of those things I have sought, I have. Of those whom I would love and be loved by, I have too. The aloha rises up in my heart is almost more than I can bear. My eyes get moist from the appreciation I have. My Io, I am not alone. The cynics among us might scoff at the idyllic lifestyle painted for them on the Ten of Cups, especially the rainbow of Cups draped across the sky. But this is how almost everyone pictures true love, in a sense - nothing but joy and happiness for the rest of their days. This wish is a simple one, and indeed, the existence shown on the Ten of Cups, with the rolling hills and the small house on the horizon, is a simple exitence as well. And in the midst of this simplicity, the hearts of the man and woman are filled with the love of the spirit - the simplest and greatest joy of all.