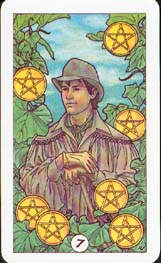 The
Seven of Pentacles
indicates the harvest is almost in; wait for the fruit to mature; card of imminence.
– efforts look promising. Looks like a good crop ahead. Waiting.
7 of Diamonds: D + K. DUCK.
Waiting for the duck to come out from under that bush there. Waiting for fulfillment, waiting for something in the process of getting ready to come to fruition. Waiting for your duck to grow into fullness.
"More than about waiting, they're about growth and maturing, The 7 of pentacles especially is about reaping from the seeds you've sewn" (Renee).