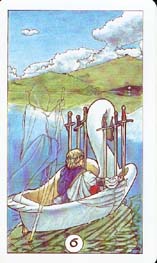 The
Six of Swords
indicates that the Transient is not yet there - the journey is half-way through; be patient.
– sees new start and plans, moves, transitions.
6 of Spades: S + SH. SASH. There is the image of a fine fingerwoven sash on a boatmen. There is a melody moving through my mind, and the journey is your teaching. All my journeys, all the journeys ever taken by anyone. What lay between the going and the coming.