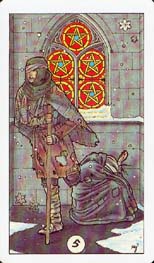 Five of Pentacles
represents hypocrisy; self-delusion; failure of faith; not getting what your due, things are being withheld; things that should happen are not.
– half through, things look bad. Poverty threatens chance of gain.
5 of Diamonds: D + L. DOLL. I fall into the image of the doll. A child crying in the night. The child's doll taken from her. Injustice, but more than that, a failed faith, perfidy. Hypocrisy. 5 of Diamonds means, "perfidy, failed faith", in other words, something is being held back from you which you deserve, which you have a right to and not a privilege.