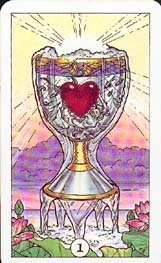 If the
Ace of Cups
is drawn in a reading, this usually means there is a lack of the elements of
Cups
in the Transient's life. This card can then be interpreted as there is a need for planning, for love, and hope. This can take the form of an active pursuit or a passive need.
-T
he inspiration or idea or desire for Cup things.
Ace of Hearts: H + T. Deeper still I see HAT. Then the image of a Hat. More, deeper, a Magician's Hat. Out comes the rabbit, and all other good wishes and needs. Out of the heart's magic hat, come all our plans and hopes and dreams. All our hopes and plans and schemes and dreams.