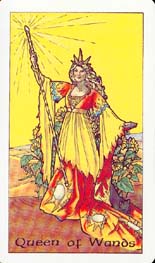 Queen of Clubs
:
QUEEN + KING – helpful.
Queen of Wands: On each card of the Kalo deck are all kinds of symbols. As you get more and more experiences with the cards, there will come times when a single symbol will somehow be highlighted in a reading. When this happens, it is the symbol that dominates. When I read the Poker Deck, I can sometimes see these symbols peeking through. This card is a very powerful one for me. In the most common use, it is the feminine form of learning, or a woman teacher. But sometimes, I see the eyes of her cat glowing. In which case, it is the card of witchcraft's or magical involvement somehow in what you're reading on.
In readings, the Queen of Wands asks you to
think and feel
as she does. For example: Do you feel attractive? Do you believe in yourself? Are you full of energy? Can you shake off the blues? Are you gung ho about life?
If the cat's eyes glow red, witchcraft is indicated.