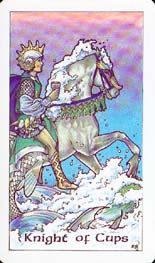 The Knight represents completeness, maturity of plans. The Knight knows what he is doing.
KNIGHT – experienced and strong individual proffers love and help.
On the positive side, the Knight of Cups is a sensitive soul. He is a poet - a lover of all things romantic and refined. He uses his imagination in wondrous ways and taps the deepest levels of emotion. He knows how to create beauty and share it with others.
On the negative side, this Knight is prone to flights of fancy and illusion. His melodramatic moods are legendary, and his emotions often get the better of him. He's too temperamental and takes offense easily. He can't stand unpleasantness and will always let others deal with it.