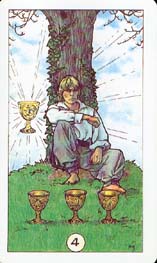 The
Four of Cups
represents the
need for inspiration; what the Transient see in front of him or her is not enough; help is on way or help is here but is not being taken; pay attention to what is here; surprise.
– new idea enters plan. Things are not as good as thought to be.
4 of Hearts: H + R. HARE, a rabbit (hare) pops out of a cup. This is a world of synchronicity, of Kismet. Of surprise and the discovery of the unexpected.