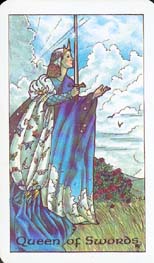 The general meaning for the Queen of Swords is most often replaced with the phrase is commanded to, or Behold! For example, whatever is on the left of the Queen of Swords is commanded or compelled to, or must pay attention to whatever is on the right of the Queen of Swords.
– is able to dictate. May be widow with power.
Queen of Spades: STEAM. I fall into the steam. Here I am
caught between cause and effect. A commencing. No, more than that, "necessitates" or "commands" might be better. A feeling of necessary movement towards a previously known end.
In readings, the Queen of Swords asks you to think and feel as she does. For example: Are you being completely honest? (Check this one first!) Do you see the humor in the situation? Are you getting right to the point? Have you figured out what's really going on? Are you letting yourself be fooled?