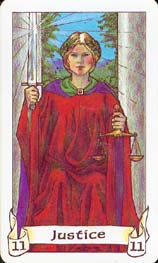 XI Justice
One will obtain justice and wrongs will be righted. One will right wrongs done others. Aumakua will help. Use your own judgment. A legal matter for consideration. The scales of balanced Justice are held in the left hand, balanced by the sword in the right. Hanging between the columns, behind the seated figure is a curtain, as on the High Priestess Card.
we explore the principles of Justice - fairness, impartiality and the quest for truth.
In readings, Justice often appears when you are concerned with doing what is right or making sure you receive your due; are feeling the impact of a past mistake or good deeds.