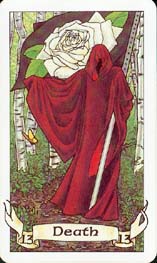 XIII Death
Reverses the good things of the Emperor. Guidance lacking. Death in family, if followed by Tower. Augurs drastic change. Bad news. Bad luck. Trouble. Death of hope. Transition. The flag carried by Death has upon it the symbol of the War of the Roses. The Pope holds back Death. A king lies dead, his crown fallen upon the ground. In the background are the same two towers with the Light shining between them as on Card XVIII, the Moon, atop which stands the Hermit.
In the DEATH card we see the earthly power and possessions canceled by the necessity of death.
To grow, to move, to live - we must "die" to the old to give birth to the new.
In readings, Death often represents an important ending that will initiate great change, or the experience of an inexorable force. Death is inevitable, and sometimes there are events that are inescapable as well. When these moments occur, the best approach is to ride your fate and see where it takes you.